Gus Guitars G3 Seven Baritone
---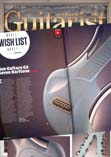 Source: Guitarist Magazine
Date: 15 December 2014
Reviewer: Dave Burrluck

Celebrating 20 years of making some of the most 'out-there' electric guitars and basses on the planet, Simon Farmer's easily the UK's most futuristic guitar maker. Our featured G3 Seven Baritone is a case in point. "This is the seventh G3-based instrument that I've built for a long term customer" Simon explains from his East Sussex workshop. "I build all of my guitars and basses to custom order, but these instruments have pushed the custom envelope further than most, presenting fresh 'challenges' with each order. A couple of common themes run through all seven, including no visible fixings, an open-style headstock and piezo pickups, mostly driving MIDI gear". Each instrument is created over a nine-to 12- month period.

"the sixth and seventh instruments were conceived as a pair, baritone-based with piezo pickups only and both finished in complimentary pastel colour tones: Ho 6 in a minty green and No 7 a pale duck-egg blue, as you can see", adds Simon.

Not only is No 7 a seven string, it has a fanned fretboard with "a baritone type scale length for the low strings. through to a more guitar-like scale for the higher strings: approximately 30 inches through to 27.5 inches. "This arrangement makes a lot of sense with regard to string physics", comments Simon, "allowing the bottom strings to develop a bigger, more defined tone while making for easy playability in the upper range".

Apart from the futuristic looks, fanned frets and a shallow neck profile with a huge width make for an interesting playing experience to say the least. It's an expansive playing surface for tapping or complex chord voicings, and the piezo sound is capable of a huge almost full-0range tonality that allows skilled players to play basslines and melodies simultaneously without fighting for space in the midrange. Future-jazz, post-rock and ambient prog players will love it.

Copyright Guitarist Magazine ©2014. Used by kind permission of Guitarist Magazine.