Gus Purple Prince
---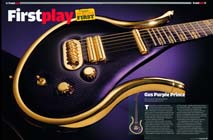 Source: Guitarist
Date: 01 January 2008
Reviewer: Guitarist

This gorgeous creation from Simon Farmer at Gus Guitars was conceived and built with just one person in mind: Prince.

Although circumstances transpired against plans to ensure that the guitar got into the hands of the Purple One during his recent UK gigs, getting the guitar to its inspiration remains the plan, although this example will soon be on display at Harrods.

Red Western Cedar forms the core of the guitar, which is subsequently covered with a carbon fibre laminate just 2.5mm thick. That material is always black and is difficult to colour, so Simon uses a finished coat of chrome-finish carbon fibre that allows him to apply the wonderfully over-the-top purple hue.

All metalwork is plated with over £550 worth of 22 karat gold - slightly hardier than the even more bling 24K option - and the plating is three microns compared to the standard one.

The electrics have been wired to suit Prince himself, and the inlays on the fretboard are made from holographic carbon fibre, a material that's not actually manufactured currently. The custom case is a thing of wonder, matching the purple and gold livery perfectly.

The playability is out of this world - the carbon-fibre board is nearly frictionless - while the mix of available tones from the custom-built pickups is truly expansive.

For £15,000, you too could get hold of a Purple Prince but, as all Gus Guitars offer a similar construction value, maybe setting your sights a tad lower would be prudent!

Copyright Guitarist ©2008. Used by kind permission of Guitarist.