Gus G3 Four Active
---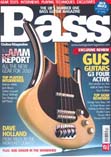 Source: Bass Guitar Magazine
Date: 15 March 2010
Reviewer: Nick Wells

Nick Wells gets to grips with this innovative design from UK bass builder Gus Guitars

Despite launching the G1 guitar as his new company's flagship model back in 1994, Simon Farmer of Gus Guitars has been making and experimenting with bass designs for far longer. In fact, the very first instrument he made, aged just 14, was a 4-string bass guitar. Throughout his art and design education Farmer continued to experiment with fretless bass designs – you may remember his 8-string 'Guitube' bass, which featured in Seal's Killer music video back in 1991. 'It was always my intention for Gus Guitars to have both guitar and bass designs,' says Farmer, 'and after the introduction of the G1, I began to develop ideas I had for a bass.'

The G3 bass made its debut in 1996, and while Farmer has continued to refine his production techniques, the underlying concept has remained the same. The initial idea was to build a bass using a lightweight tonewood core and carbon fibre skin, as Simon explains: 'I knew this technique would make a very strong and stable instrument that would be lighter in weight than a conventional wooden bass, with excellent acoustic properties, good string-to-string definition, sustain and clarity.'

Simon carries out nearly all the processes in his purpose-built workshop in East Sussex and makes almost every part of a Gus guitar, bar the machine heads and strings. With an extensive list of available options, each bass is essentially a starting point for a bespoke custom instrument. Our review model is a G3 Four Active bass with some custom modifications, including an additional pickup and a specially designed carbon fibre scratchplate. But what will the G3's futuristic design offer in terms of sound and playability?

Body & Neck
At the core of the G3's futuristic design lies a central body section carved from western red cedar laminate. The wood core features a glued-in neck join, but the bass effectively becomes 'as one' in a solid mould where several thin layers of carbon fibre (amounting to 2.5 mm over the entire body surface) are bonded to the outside, running continuously from the end of the body to the top of the headstock. This carbon fibre skin is formed using a combination of vac-bagging and resin infusion – a unique process that Farmer has developed over 15 years in the industry. As he explains, 'The main objective is to achieve a high-quality surface laminate that can be used as a visual layer if necessary, backed by fibres that are orientated to achieve maximum structural integrity and strength.' In other words, the G3 is an incredibly lightweight, strong and resonant instrument.

The compact body is finished in a creamy white (the finishing is carried out in-house using high-quality House of Kolor custom paints) and boasts an ergonomic design with a gentle concave curve, matching the subtle outwards curve of the instrument's top. The G3 also features the trademark Gus tubing in the form of two chrome-plated aluminium bolt-on horns. The ergonomics of the bass precluded Simon from using an all-encompassing body wrap of aluminium tube, so two separate sections have been used to create the 'twin horn' design. Most of the G3's metal parts are turned on the lathe or milled on the milling machine from solid aluminium before being plated with high-quality chrome.

The neck itself is carved from cedrela, a lightweight wood from the mahogany family, and features a tinted birdseye maple board and matching headstock facing. The carbon fibre inlays look suitably retro and match the custom scratchplate and control cavity covers. The neck profile is slightly asymmetric, with a steeper top half and shallower bottom, making for a comfortable shape that's effortlessly playable. 'The profile is fixed through the nature of the moulding process I use,' says Farmer, 'though I can and do vary the neck depth.'

Hardware
The G3 is fitted with twin Gus Tube pickups and a unique four-way switching system. The pickups are single-coils but can be combined should you wish (the pickup layout on our review model has been 'modded' to include a full humbucker at the bridge). These are hand-wound ceramic magnet units, which are sealed inside stainless steel tubes. The pickups are wired to a rotary magnetic pickup selector and stacked master volume and three-band EQ controls.

The active electronics have been designed and developed specifically for Gus Guitars in conjunction with electronics expert John East. 'Simon asked me if I would design a unit especially for him,' explains John, 'and he gave me details of the controls he wanted. I designed a circuit and sent him a prototype to try. After testing it, Simon wanted to make some changes, so we fine-tuned it accordingly. After all was satisfactory, I went ahead and designed a circuit. Simon, being extremely fastidious on the design side, specified a circular circuit board, so that it was in keeping with his overall design concept.'

The EQ controls are centre-detented and enable you to increase or decrease the gain levels across three carefully selected frequencies: bass 0–18 dB @ 55 Hz (boost only), mid +/- 10 dB @ 375 Hz, treble +/- 15 dB @ 4.5 kHz shelving. Should you wish to hear the straightforward tone of the G3 without the active EQ, use the upper stack of the first control, which doubles as a volume and passive pull switch.

The rotary control is a high-quality military spec switch and feels a little stiff to turn in the first instance but loosens up over time. In its first position the full coils of the bridge humbucker are selected; position 2 selects the bridge single-coil; position 3 selects bridge and neck single-coils together; and the fourth position isolates the neck pickup.

The electronics themselves can be accessed on the rear side of the body. The individual cavities are concealed by carbon fibre covers held in place by magnets and can be easily removed using your fingernail or the edge of a plectrum. An angled jack socket can also be found on the rear of the body, along with a battery compartment housing a 9-volt battery that powers the preamp. A final cover plate grants access to the ball ends of the strings, which are threaded through the body before being secured by the G3's futuristic bridge design. This consists of a chunky bass plate and semicircular saddles, with each string sat on a smaller, fully adjustable brass insert. The saddles look suitably futuristic but there is a practical point to their smooth half-round shape, as the strings aren't forced over a sharp break point. As you tune up it's worth checking that the strings sit properly in the inserts by applying some pressure on the string just in front of the insert with your finger. Needless to say, the G3 arrived with a meticulous set-up. 'I tend to set basses up to suit the client,' says Farmer. 'I do a fair amount of quizzing at the start of the order process, so I know what they're going to expect and want in the way of set-up.'
?The streamlined headstock features a set of Gotoh machine heads that complete the hardware inventory, with three positioned along the top edge and a single tuner on the treble side. The truss rod can be accessed in a cavity located just behind the nut.

Sounds
The G3's core tone exhibits the warmth of wood with all the added resonance and tonal balance that you'd expect from a carbon fibre instrument. It may look radical in its design but the G3 feels perfectly natural to play. The diminutive body will take a little getting used to for those used to a more expansive slab of alder or ash, but we were pleased to find that it balances perfectly on the strap. The upward curve of the top horn does mean that the strap is prone to detaching from the strap button and doesn't work very well with a non-locking system. Luckily the G3 comes supplied with a set of Schaller strap locks (Simon can also supply a handmade leather strap if requested). A subtle raised edge runs along the treble side of the scratchplate in line with the neck, from the end of the fingerboard to the first pickup, and grants a little more access to the underside of the strings to accommodate more aggressive playing techniques. The passive sound is instantly familiar, with plenty of presence in the lower register and equal definition in the high end. Adding in the active circuitry provides an instant boost to the signal, bringing the fundamental tone in line with a more modern bass sound. You don't lose any of the G3's basic character; instead, the active circuitry enhances the tone, making for a responsive and versatile bass sound.

The EQ controls aren't overbearing as some active EQ circuits often are, allowing you to refine your tone without ever compromising your initial start point. But we couldn't help but feel that the EQ section was overshadowed by the rotary pickup selector, which is without doubt where the Gus G3 scores its highest marks. Using this intuitive selector switch, you can dial in a huge range of bass sounds while keeping it all fairly simple to control – from thinner, more articulate, tones right through to stacks of bottom end and snappy high frequencies. Compared to a more standard pickup blend control, this set-up allows for a far greater variety of tones and also gives some uniformity to the controls when compared to a toggle switch. It's almost like you are switching through preset EQ settings on an amplifier rather than basic pickup switching. It really is that effective.

Conclusion
There is no escaping that as good as this bass sounds, the initial draw of the G3 will be its eye-catching design. But beyond the chrome-plated horns and carbon fibre scratchplate is a bass that feels reassuringly familiar. The G3 hints at a touch of class too, or as Simon Farmer puts it, 'retro with a modern twist'. The bespoke nature of the design makes it difficult to make comparisons with other instruments, and the amount of available custom options is staggering, from a passive-only model to custom LED position markers, MIDI, baritone or fretless models (Simon has recently built a G3 Five MIDI fretless with a full three-octave carbon fibre fingerboard and 'jewelry' grade gold plating), but that only seems to add to the G3's charm.

As with any custom instrument the G3 isn't cheap, but considering the level of build quality, the innovative design and the added kudos of being able to order a completely custom instrument, we still feel you are getting good value for money. The base price is £4,500, but in the case of our review model the additional pickup, birdseye maple fingerboard and headstock veneer, carbon fibre scratchplate, control covers and inlays result in an £850 surcharge. Those lucky enough to be in a position to place an order with Gus Guitars won't be disappointed, either with the end product or the level of customer care granted by Simon Farmer. Highly recommended.

Opinion & Ratings
Plus: Faultless design and playability. Rotary pickup selector provides huge scope for varying your tone.
Minus: Contemporary looks won't suit more traditional players.
Overall: The G3 offers a sound that's very much its own, with stacks of tonal diversity. Top marks for looks and originality.

Overall Ratings Out Of Five
Build Quality 5/5
Sounds 5/5
Value For Money 4/5

Technical Specifications
Price: £5,350 as reviewed (Base price £4,500)
Custom extras: Additional pickup £100, maple fingerboard and headstock veneer £250, carbon fibre scratchplate and control cavity covers £350, carbon fibre inlays £150
Built in: UK
Scale length: 863 mm (34 inches)
Frets: 24
Nut width: 41 mm
Neck: Cedrela, 12" radius
Fingerboard: Tinted birdseye maple
Body: Carbon fibre over cedar
Pickups: 1 x humbucker, 1 x single-coil
Controls: 1 x master volume, 3-band active EQ, passive bypass, 4-way magnetic rotary tone control
Electronics: Gus G-01 John East preamp
Machine heads: Gotoh 510
Bridge: Hardtail Gus design
Finish: Acrylic
Weight: 3.6 kg (8 lb)

Contact Details
Gus Guitars
Tel: +44 (0) 1435 863005 www.gusguitars.com


Copyright Bass Guitar Magazine ©2010. Used by kind permission of Bass Guitar Magazine.