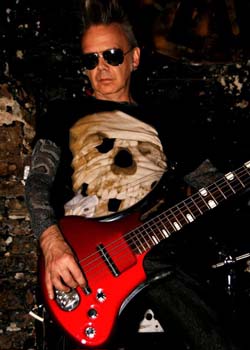 Mike is a long time Gus user; he started his 'collection' with a G1 Vibrato, but now also owns three G3 basses - two G3 Five strings and a G3 Four fretless.
It's his Candy Apple Red G3 Five Active which sees the action in his band Dick Venom & the Terrortones though, where the bass seems to sit comfortably sonically and visually!
Dick Venom & the Terrortones are a four piece, high energy Psychobilly meets Punk outfit that have garnered some rave reviews since they burst on to the scene.
They've supported the likes of The Meteors, The Radiacs and De Staat and have a 3 track CD out which they will be touring to support.
Website: www.dickvenom.com