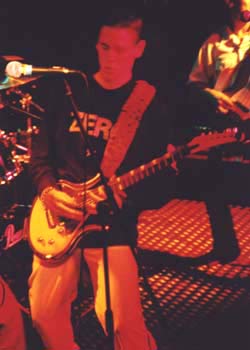 Adam is one of those talented young players who seems to have crammed a life times worth of playing into the last ten years or so! Well I guess he started young, gigging round and about his native Lincolnshire from the tender age of twelve.
Guitar playing became his focus and it was a natural continuation to enrol at the London Music School at the age of sixteen, which he graduated from with a Platinum Award. It was here that he met members of the band that would become The Bride of Spasm. The band have now recorded and produced their first EP, which is already receiving praise, including this from Eric Roche, Guitar Techniques Magazine columnist and head of the guitar department at The Academy of Contemporary Music in Guildford -
'I am very impressed with 'The Bride of Spasm'. Adam Morland is a very talented songwriter and is destined for much success in the future'
Adam plays a G1 Hardtail fitted with a custom carbon fibre scratchplate, hand-wound Maxitone pickups and finished in Daytona Yellow.
Website: www.thebrideofspasm.com