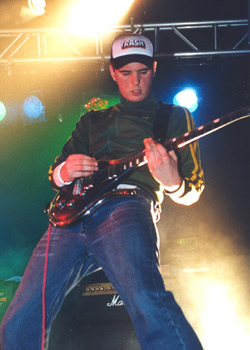 Luke is the lead guitarist with a great young band called MyGirlSleeps, from Redditch in the UK, who are fast becoming one of the West Midlands' hottest acts, building a loyal fanbase off the back of some great recordings and high energy live performances....and all this has happened pretty fast, as the band only got together in the late spring of 2002!
A five piece, featuring the classic format of two guitars, bass, drums and vocals, the songs are written by founding member Dave Humphries, who, disenchanted with the 'formulaic rubbish' of 'manufactured' bands, set out to create, in his words "a soundscape that was at once both familiar and yet unique". He explains that "the sound is very much guitar based, but the lyrics and vocal style give the music a feel of its own".
Luke's band bio describes him as "not your average 'show 'em how it's played' show off!' He just loves playing and has done since the age of 9. His idea of lead guitar is to create catchy 'meant to be there' fills that contribute to the overall sound of the band. He obviously seems to be doing things right and we wish the band all the best on their road to success!
Website: www.mygirlsleeps.co.uk