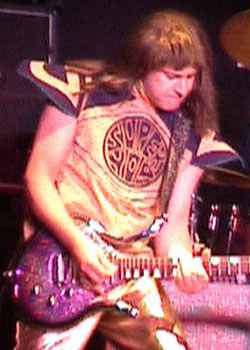 Playing guitar in a Slade Tribute band is perhaps not the coolest gig in the world, but I feel somewhat redeemed by playing the coolest guitar!
My Gus G1 "Glambuster" was obligingly made with a few mods to take over from my tired old Les Paul. Simon fitted an on /off toggle switch to emulate the Gibson pick-up selector and made a wider neck to make it easier to change from one guitar to another.
We decided to go full on with the Metal flake finish which really is amazing and gives it a great Glam Rock look. The two Humbuckers through my JCM800 give me a massive wall of sound and whenever we kick off the night with "Cum On Feel The Noize" the opening guitar sound always blows people away. Should have bought one years ago !
Gus guitars are quite simply works of art. From the carbon fibre skin right down to the logo, each process has been honed and perfected to create one of the most iconic and inspired guitars I have ever seen. Once you play a Gus there is no turning back!
Website: www.slydeuk.com