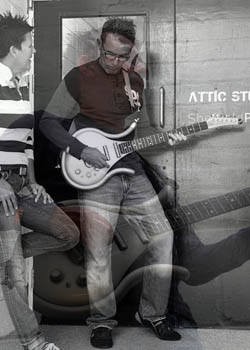 "The unVangs are an eclectic Sheffield band, with a unique 'technoglam' sound... created using bespoke backing tracks (crafted in our home studio) plus live vocals and MIDI Synth Guitar.
Our custom GUS G1 MIDI is the latest addition, further defining our sound… which already features the Roland GR707 Guitar Controller, Roland Virtual Guitar Amplifier (VGA7), Roland GR09 & GR33 Guitar Synthesizers and Dave Smith Mopho Synthesizer etc.
The life and works of Bill Nelson (another custom GUS G1 MIDI owner) are a massive influence on the band… so when we saw him play 'Orphee', finished in plum crazy, at Sensoria in Sheffield (May 2011)… we just knew that it was only a matter of time before we too would have to get one built!
We currently have four original EPs (Technoglam, Prophet, Eclectica and Alchemy) which we have recorded in our private Rehearsal Room / Studio at 'Attic', Sheffield. All tracks are completely live, unedited and unproduced".
Website: www.theunvangs.co.uk